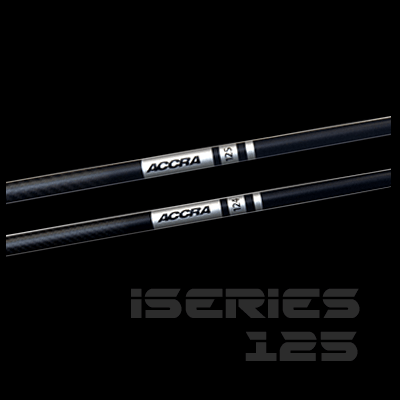 iSeries 125 iron shafts
The iSeries 125 is a unique combination of weight, feel, stability and performance.
The concept behind this shaft is to offer all golfers the opportunity to benefit from a graphite construction (shock dampening, power) while maintaining the weight that they are accustomed to.
The iSeries 125 is essentially 3 designs, each with the ability to be customised to multiple flexes…..
1. iSeries 123
Responsive tip
Smooth feel
2. iSeries 124
Stable tip featuring Ti-Mesh
Stable butt section with Weave technology
3. iSeries 125
Tour stability in tip with Ti Mesh and internal weave.
Tour stability in butt section for reduced ovaling




| Model | Type | Flex | S3 Flex | Mass | Balance Pt. | S3 Launch | Butt Ei | Mid Ei | Tip Ei | S3 CPM | Torque | Butt OD | Tip OD | Length | Parallel |
| --- | --- | --- | --- | --- | --- | --- | --- | --- | --- | --- | --- | --- | --- | --- | --- |
| 123i | iron | M3 | 19.7 | 124 | 22 | 11.5 | 61.6 | 45.1 | 33.7 | 250 | 2.00 | 0.610 | 0.370 | 41 | 6 |
| Tour 124i TiMesh | iron | M4 | 23.5 | 125 | 22 | 11.5 | 90.0 | 56.0 | 27.0 | 270 | 1.90 | 0.610 | 0.370 | 41 | 6 |
| Tour 125i TiMesh | iron | M5 | 27 | 127 | 22 | 11.5 | 106.5 | 58.2 | 35.1 | 290 | 1.90 | 0.610 | 0.370 | 41 | 6 |