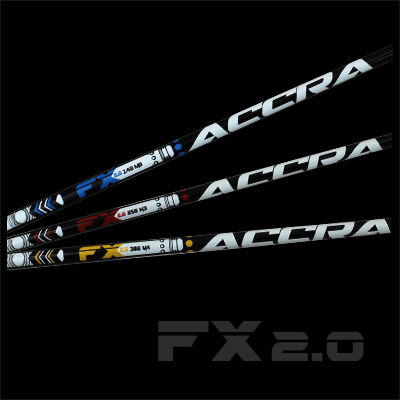 FX 2.0 Series
ACCRA is synonymous with professional fitting, as only the world's best club fitters are chosen to be certified dealers. ACCRA performance golf shafts are not available "off the rack" because we truly believe that a "fit" golf club will always out perform a "stock" golf club. The Fx 2.0 series offers an unsurpassed army of fitting options, combining unique profiles, weights, flexes and performance characteristics carrying on a
tradition of delivering club fitters all of the tools to fit any golfer.
The Fx 2.0 offers 3 unique launch conditions, utilizing S3 shaft blueprinting technologies:
Fx 2.0 100 Series = High launch
Fx 2.0 200 Series = Mid Launch
Fx 2.0 300 Series = Low Launch
Each Fx 2.0 Series, offers multiple weight options for driver shafts combined with dedicated Fairway Wood and Hybrid shaft featuring ACCRA's proprietary DyMatch* Technology (DymTec):
Driver
Fx 2.0 100 Series ~ 40g, 50g, 60g
Fx 2.0 200 Series ~ 50g, 60g, 70g
Fx 2.0 300 Series ~ 60g, 70g, 80g
Fairway Wood
Fx 2.0 100F Series ~ 65g
Fx 2.0 200F Series ~ 75g
Fx 2.0 300F Series ~ 85g
Hybrid
Fx 2.0 100H Series ~ 60g, 75g
Fx 2.0 200H Series ~ 85g
Fx 2.0 300H Series ~ 95g
Each series of Fx 2.0 shafts offers a unique shaft profile that is designed using ACCRA's proprietary S3 (Shaft Simulation System) to specifically offer club fitters 3 dedicated launch/spin characteristics maximizing performance for all different levels of golfers.




| Model | Type | Flex | S3 Flex | Mass | Balance Pt. | S3 Launch | Butt Ei | Mid Ei | Tip Ei | S3 CPM | Torque | Butt OD | Tip OD | Length | Parallel |
| --- | --- | --- | --- | --- | --- | --- | --- | --- | --- | --- | --- | --- | --- | --- | --- |
| FX 2.0 140 | Driver | M0 | 9.7 | 46.0 | 23.5 | 11.3 | 45.0 | 26.0 | 13.2 | 202 | 5.0 | 0.600 | 0.335 | 46 | 3 |
| FX 2.0 140 | Driver | M1 | 11.3 | 47.0 | 23.5 | 11.1 | 53.0 | 28.6 | 16.0 | 216 | 4.8 | 0.600 | 0.335 | 46 | 3 |
| FX 2.0 140 | Driver | M2 | 12.7 | 48.0 | 23.5 | 11.1 | 62.0 | 34.0 | 18.5 | 232 | 4.7 | 0.600 | 0.335 | 46 | 3 |
| FX 2.0 140 | Driver | M3 | 14.2 | 49.0 | 23.5 | 11.1 | 70.0 | 38.0 | 19.9 | 244 | 4.6 | 0.600 | 0.335 | 46 | 3 |
| FX 2.0 140 | Driver | M4 | 16.0 | 51.0 | 23.5 | 11.1 | 76.0 | 42.0 | 22.0 | 260 | 4.5 | 0.600 | 0.335 | 46 | 3 |
| FX 2.0 150 | Driver | M1 | 11.3 | 54.0 | 23.5 | 11.1 | 53.0 | 29.0 | 17.5 | 216 | 4.8 | 0.600 | 0.335 | 46 | 3 |
| FX 2.0 150 | Driver | M2 | 12.6 | 55.0 | 23.5 | 11.1 | 64.0 | 34.0 | 18.0 | 232 | 4.8 | 0.600 | 0.335 | 46 | 3 |
| FX 2.0 150 | Driver | M3 | 14.5 | 56.0 | 23.5 | 11.1 | 70.3 | 36.1 | 20.8 | 244 | 4.6 | 0.600 | 0.335 | 46 | 3 |
| FX 2.0 150 | Driver | M4 | 16.0 | 57.0 | 23.5 | 11.1 | 77.0 | 42.0 | 22.0 | 260 | 4.6 | 0.600 | 0.335 | 46 | 3 |
| FX 2.0 160 | Driver | M2 | 12.6 | 62.0 | 23.5 | 11.1 | 62.0 | 34.0 | 17.7 | 232 | 4.1 | 0.600 | 0.335 | 46 | 3 |
| FX 2.0 160 | Driver | M3 | 14.4 | 65.0 | 23.5 | 11.0 | 70.0 | 36.2 | 18.7 | 244 | 4.3 | 0.600 | 0.335 | 46 | 3 |
| FX 2.0 160 | Driver | M4 | 16.4 | 68.0 | 23.5 | 11.1 | 77.0 | 43.0 | 22.3 | 260 | 4.3 | 0.600 | 0.335 | 46 | 3 |
| FX 2.0 100F | FWY | M1 | 12.0 | 62.0 | 23.5 | 11.5 | 70.0 | 27.0 | 17.0 | 225 | 4.6 | 0.600 | 0.335 | 44 | 3 |
| FX 2.0 100F | FWY | M2 | 13.4 | 64.0 | 23.5 | 11.5 | 81.0 | 29.0 | 18.0 | 237 | 4.6 | 0.600 | 0.335 | 44 | 3 |
| FX 2.0 100F | FWY | M3 | 14.8 | 66.0 | 23.5 | 11.5 | 87.2 | 34.0 | 20.1 | 250 | 4.6 | 0.600 | 0.335 | 44 | 3 |
| FX 2.0 100F | FWY | M4 | 16.4 | 68.0 | 24.0 | 11.5 | 96.5 | 39.5 | 20.0 | 264 | 4.6 | 0.600 | 0.335 | 44 | 3 |
| FX 2.0 100H60 | Hybrid | M1 | 14.6 | 62.0 | 20.5 | 11.7 | 53.3 | 26.0 | 21.0 | 225 | 4.6 | 0.600 | 0.370 | 42 | 4 |
| FX 2.0 100H60 | Hybrid | M2 | 16.1 | 65.0 | 20.5 | 11.7 | 60.0 | 28.6 | 21.0 | 238 | 4.4 | 0.600 | 0.370 | 42 | 4 |
| FX 2.0 100H60 | Hybrid | M3 | 17.6 | 67.0 | 21.0 | 11.7 | 62.0 | 31.5 | 24.0 | 253 | 4.4 | 0.600 | 0.370 | 42 | 4 |
| FX 2.0 100H | Hybrid | M2 | 16.2 | 74.0 | 21.0 | 11.7 | 60.0 | 28.6 | 23.0 | 238 | 3.5 | 0.600 | 0.370 | 42 | 4 |
| FX 2.0 100H | Hybrid | M3 | 17.7 | 75.0 | 21.0 | 11.6 | 60.0 | 33.2 | 25.0 | 253 | 3.4 | 0.600 | 0.370 | 42 | 4 |
| FX 2.0 100H | Hybrid | M4 | 19.7 | 76.0 | 21.0 | 11.6 | 71.0 | 37.3 | 26.0 | 265 | 3.4 | 0.600 | 0.370 | 42 | 4 |
| Model | Type | Flex | S3 Flex | Mass | Balance Pt. | S3 Launch | Butt Ei | Mid Ei | Tip Ei | S3 CPM | Torque | Butt OD | Tip OD | Length | Parallel |
| --- | --- | --- | --- | --- | --- | --- | --- | --- | --- | --- | --- | --- | --- | --- | --- |
| FX 2.0 250 | Driver | M3 | 14.6 | 55.0 | 24.5 | 10.9 | 76.0 | 37.0 | 22.0 | 250 | 5.0 | 0.615 | 0.335 | 46 | 3 |
| FX 2.0 250 | Driver | M4 | 16.2 | 58.0 | 24.5 | 10.9 | 85.0 | 41.3 | 23.8 | 260 | 5.0 | 0.615 | 0.335 | 46 | 3 |
| FX 2.0 260 | Driver | M3 | 14.6 | 64.0 | 25.0 | 10.8 | 76.0 | 37.0 | 22.1 | 250 | 3.6 | 0.615 | 0.335 | 46 | 3 |
| FX 2.0 260 | Driver | M4 | 16.2 | 68.0 | 25.0 | 10.7 | 84.0 | 43.0 | 25.0 | 260 | 3.6 | 0.615 | 0.335 | 46 | 3 |
| FX 2.0 260 | Driver | M5 | 18.0 | 70.0 | 25.0 | 10.7 | 92.0 | 46.0 | 27.0 | 272 | 3.5 | 0.615 | 0.335 | 46 | 3 |
| FX 2.0 270 | Driver | M3 | 14.9 | 73.0 | 25.0 | 10.7 | 76.0 | 38.0 | 22.5 | 250 | 3.6 | 0.615 | 0.335 | 46 | 3 |
| FX 2.0 270 | Driver | M4 | 16.2 | 74.0 | 25.0 | 10.7 | 85.0 | 43.0 | 25.0 | 260 | 3.6 | 0.615 | 0.335 | 46 | 3 |
| FX 2.0 270 | Driver | M5 | 17.8 | 77.0 | 25.0 | 10.7 | 92.0 | 47.0 | 27.0 | 272 | 3.6 | 0.615 | 0.335 | 46 | 3 |
| FX 2.0 200F | FWY | M3 | 15.5 | 73.0 | 24.0 | 11.0 | 78.0 | 39.0 | 23.0 | 255 | 3.6 | 0.615 | 0.335 | 44 | 3 |
| FX 2.0 200F | FWY | M4 | 17.0 | 75.0 | 24.0 | 11.0 | 85.0 | 43.0 | 25.0 | 265 | 3.6 | 0.615 | 0.335 | 44 | 3 |
| FX 2.0 200F | FWY | M5 | 18.3 | 79.0 | 24.0 | 11.0 | 98.0 | 47.1 | 27.1 | 275 | 3.6 | 0.615 | 0.335 | 44 | 3 |
| FX 2.0 200H | Hybrid | M3 | 18.4 | 81.0 | 22.0 | 11.6 | 66.0 | 36.0 | 24.2 | 257 | 2.3 | 0.615 | 0.370 | 42 | 3 |
| FX 2.0 200H | Hybrid | M4 | 19.9 | 85.0 | 22.0 | 11.6 | 70.0 | 40.0 | 27.0 | 270 | 2.2 | 0.615 | 0.370 | 42 | 3 |
| FX 2.0 200H | Hybrid | M5 | 22.2 | 88.0 | 22.5 | 11.6 | 76.0 | 45.3 | 27.6 | 280 | 2.2 | 0.615 | 0.370 | 42 | 3 |
| Model | Type | Flex | S3 Flex | Mass | Balance Pt. | S3 Launch | Butt Ei | Mid Ei | Tip Ei | S3 CPM | Torque | Butt OD | Tip OD | Length | Parallel |
| --- | --- | --- | --- | --- | --- | --- | --- | --- | --- | --- | --- | --- | --- | --- | --- |
| FX 2.0 360 | Driver | M4 | 16.6 | 66.0 | 24.5 | 10.4 | 80.0 | 44.4 | 28.9 | 260 | 3.6 | 0.610 | 0.335 | 46 | 3 |
| FX 2.0 360 | Driver | M5 | 18.0 | 71.0 | 24.5 | 10.4 | 84.0 | 49.0 | 32.0 | 272 | 3.6 | 0.610 | 0.335 | 46 | 3 |
| FX 2.0 370 | Driver | M4 | 16.4 | 74.0 | 24.5 | 10.3 | 80.0 | 45.0 | 31.0 | 260 | 3.5 | 0.610 | 0.335 | 46 | 3 |
| FX 2.0 370 | Driver | M5 | 18.0 | 76.0 | 24.5 | 10.3 | 84.0 | 50.0 | 32.8 | 272 | 3.5 | 0.610 | 0.335 | 46 | 3 |
| FX 2.0 380 | Driver | M4 | 16.6 | 86.0 | 25.0 | 10.3 | 80.0 | 46.0 | 31.0 | 260 | 3.4 | 0.610 | 0.335 | 46 | 3 |
| FX 2.0 380 | Driver | M5 | 18.0 | 90.0 | 25.0 | 10.3 | 85.0 | 50.0 | 33.0 | 272 | 3.4 | 0.610 | 0.335 | 46 | 3 |
| FX 2.0 300F | FWY | M4 | 17.2 | 84.0 | 24.0 | 10.6 | 83.0 | 46.0 | 28.0 | 265 | 3.3 | 0.610 | 0.335 | 44 | 3 |
| FX 2.0 300F | FWY | M5 | 18.6 | 88.0 | 24.0 | 10.5 | 89.0 | 49.8 | 31.0 | 278 | 3.1 | 0.610 | 0.335 | 44 | 3 |
| FX 2.0 300H | Hybrid | M4 | 20.7 | 95.0 | 22.0 | 11.3 | 70.3 | 42.0 | 32.0 | 270 | 2.3 | 0.610 | 0.370 | 42 | 3 |
| FX 2.0 300H | Hybrid | M5 | 22.3 | 97.0 | 22.0 | 11.3 | 74.0 | 46.0 | 32.9 | 280 | 2.2 | 0.610 | 0.370 | 42 | 3 |